History

History of Transportation

The Railroad
The Ava-Mansfield Train

Old picture postcard of the railroad that ran from Ava to Mansfield, contributed by an area resident, John Lillyquist. He says, "I have no idea where Alwanda was or is, but it is mentioned in my 1910 atlas as being on the Kansas City, Ozarks & Southern RR. The atlas gives no population or location, other than Douglas County."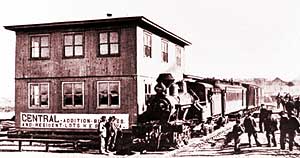 The end of the line: Ava, about 1910. The worm-gear "timber tram" was acquired from the Grandin Mill. The banner on the new train station promotes business and resident lots in a new addition. The three-car train, one passenger and two freight, carried the photographer from Kansas City into the wilderness of the Ozarks.

When the Frisco Railroad built a line between Mansfield and Ava in 1910, local residents found new ways to start businesses to serve the people that the railroad brought.
It wasn't just traveling passengers that the trains carried between Ava and Mansfield and from Mansfield on to Springfield and beyond. It was also the business people who started coming to Ava in increasing numbers because of all the freight activity going on there. There were salesmen and suppliers and buyers and investors - all coming and going about their business with the tomato canneries and logging operations in the area.
Tomatoes and Railroad Ties
As soon as the railroad connected Ava and Mansfield, all the people with canned tomatoes and railroad ties (the main product from the Ozarks forests at that time) found it more convenient to ship them from Ava, than go overland by different routes, as they had been doing. The railroad even encouraged more people to grow tomatoes and log the forests, because this new transportation option made it easier and less expensive to take those goods to markets outside the Ozarks.
More railroad towns:
Cedar Gap
Norwood
Willow Springs
West Plains (Richards School railroad mural)
1898 map showing routes and post offices of the Railway Mail Service in this area. Designed by Chicago railway mail clerk Frank H. Galbraith to help employees of the Railway Mail Service quickly locate counties and post offices. Railway postal workers numbered over 6,000 and traveled over a million miles a year on the rails sorting mail.


Written by Patty Cantrell. Photo of Ava train and caption from Ozarks Watch, Winter 1998, SMSU Center for Ozarks Studies. The photographer was Charles Phelps Cushing, a Kansas City newspaper reporter of the time. Railroad map and caption from the Library of Congress American Memories Historical Map Collection.
This is the Web site of the Bryant Watershed Education Project, based in West Plains, Missouri. Our site is a toolkit for exploring the Bryant Creek, North Fork, Eleven Point and Upper Spring watersheds in the southern Missouri Ozarks.
Learn more.