Outdoors

Caney Mountain
Caney Mountain Conservation Area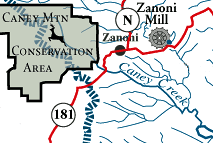 Caney Mountain is just off Highway 181, five miles north of Gainesville in Ozark County. Its 7,899 acres of public land is administered by the Missouri Department of Conservation. This rough country contains creeks, springs, caves, old growth forest, glades, savanna, and some of the steepest land in the state. The views from the high points are breathtaking. There are roads through the refuge, as well as hiking trails. Caney is rich in natural areas, history, and wildlife. The 1,330 acre Caney Mountain Natural Area contains Missouri's State Champion black gum tree and ancient post oak and cedar.
Deer and turkey are common now, but in 1940, when Caney was established, there were only 300 deer and few turkey left in the entire state. The last recorded deer kill in the area had been in 1910. One of the first acts at Caney was to build a fence of cedar poles and barbed wire around the entire area. This helped keep predators and poachers out and wildlife in. Caney Mountain played a big part in the success story of restoring deer and turkey in Missouri. A snow track census in 1940 found ten wild turkeys in Caney. A total of twenty five turkeys were found in the Caney Mountain region. The turkey population steadily grew to 135 by 1945. Thirty deer were trapped in Skaggs Ranch near Forsyth and released in Caney. By 1945 there were 175 deer inside the fence. Some of these animals were trapped and released around the state to help rebuild populations. Today Caney is known for its special hunts. There is a black powder deer hunt in October, and a spring archery hunt for turkey.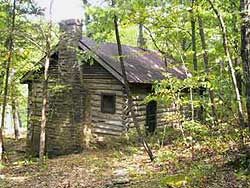 Caney Mountain has two historic buildings. A log cabin was built in 1941 to be the home of resident biologist Starker Leopold. The famous biologist and writer Aldo Leopold, Starker's father, visited there. The pine logs used to build the cabin were cut east of Brixey. In recent years, termites have eaten some of the foundation and the floor boards have been removed. The staff at Caney have replacement pine logs curing, and will replace the floor.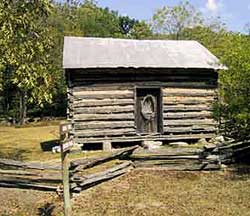 The other log cabin sits near the manager's residence by the entry road. It was built in the 1880s by Robert Grisham, a peddler and farmer. This cabin was moved to this site by area manager Joe Morrison. Many Morrison descendants still live in the area.
Because of frequent fires, the forest was not as dense in presettlement times as it is now. Open woodlands were common on sunny south slopes and ridgetops. Savannas, where widely spaced trees grew over a carpet of grasses and wildflowers, were widespread. Glades, now often overgrown with cedar, occur on places where thin soils prohibit easy growth of hardwoods. Glades were also kept open by fire.
Indians, and early settlers, burned the forest to keep it open to hunt game. Fire kept grass and forbs for grazing wildlife growing on the sunny ground under the widely spaced trees. The grass and broad-leaved plants carried lightning - and human-set fires, across large areas. You can see restored savannas and glades in Caney Mountain Conservation Area. Carefully controlled periodic burning is returning savanas and glades to their presettlement appearance.

Sources: Directory of Missouri Natural Areas, Missouri Natural Areas Committee, 1996.
Danny Billings, Caney Mountain Area Manager, writing in A History of Ozark County 1841-1991, Ozark County Historical Society. Brochure for Caney Mountain Conservation Area, published by MDC.
Written by Hank Dorst. Photos: Log cabins: Peter Callaway; View from Caney Mountain: Susie Nightowl.