Outdoors

Stream Days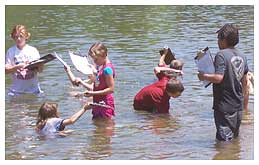 Stream Days
Utilizing teams of professional and volunteer facilitators, topics include water chemistry, macroinvertebrate survey, riparian zone survey, gravel movement in streams, nature journaling and more.
Teachers: for more information on signing up your class for Stream Days and choosing a site near you, email us. Sites are limited to our service area which includes Bryant Creek and the North Fork, Eleven Point, and Upper Spring River watersheds.
April 2007 at Greer Springs for Winona 6th grade.
April 2007 on Bryant Creek for Mt. Grove 5th grade.
September 2006 on Bryant Creek for Richards School 7th/8th grades.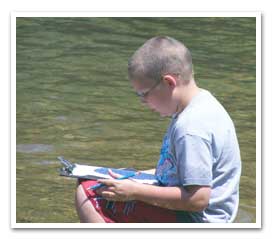 May 2006 on the North Fork River for West Plains Elementary.
September 2005 at Hodgson Mill on Bryant Creek
Summer School Stream Day at Hammond Mill on North Fork for fourth and fifth graders from West Plains Elementary, June 2005.
In 2004 we held two Stream Days at Hodgson Mill on Bryant Creek for seventh grade students from Dora, Gainesville, and Willow Springs.


The development of content for Stream Days is funded through the Missouri Department of Natural Resources. U.S. Environmental Protection Agency Region VII, through the Missouri Department of Natural Resources, has provided partial funding for this project under Section 319 of the Clean Water Act.