Places

Tributaries

Fox Creek


Fox Creek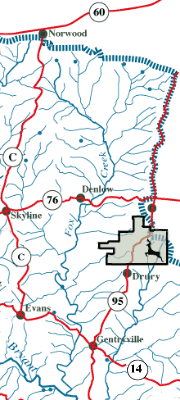 Fox Creek is the fifth largest tributary of the Bryant.
Location
The Fox Creek watershed lies south of Norwood and Mountain Grove. It extends south almost to the Ozark County line. Rainwater falling on the watershed drains to the south from Highway ZZ and also from a county gravel road, and to the east from Highway C and Snyder Ridge near Bertha. Highway 95 is the eastern boundary.
Photo Story: New Bertha Bridge
Shannon Ranch Conservation Area contains 1,325 acres of public land on both sides of Highway 95 north of Drury. Hunting and primitive camping are allowed in the area. It is located one and a quarter miles south of Vanzant on Highway 95.
Communities
Coldspring, near the tributary Clever Creek, is on Highway 76. Denlow, near Fox Creek, is on Highway 76. Champion is on the creek at the end of Highway WW, off C Highway. The small communities of Prior, Vanzant, Drury, and Gentryville are located along Highway 95.
Roads: Highway 14 crosses the deep valley of Fox Creek west of Gentryville. Highways AE and ZZ both end at the creek near the Wright/Douglas County line. There are many county gravel roads in the watershed. You can drive on county gravel along Fox Creek for about 9 miles from the end of Highway AE south to Denlow. Highway ZZ runs along the East prong at the top of Fox Creek, while county gravel runs along upper Fox Creek to Highway C.
Watershed Size: About 105 square miles.

Topography
Elevation varies from 1,580 feet above sea level at the northeast corner of the watershed to 720 feet at the confluence with the Bryant. Maximum relief is 860 feet.

Stream Flow
Fox Creek is perennial for about 8 miles upstream from its mouth. Its total length is about 22 miles. Upper Fox Creek and the East Prong are both perennial for a mile or two above their confluence. Other tributaries include Clever Creek and Greasy Creek.

Landscape & Special Features
The steep valley slopes of lower Fox Creek are mostly forested. The bottom and some of the wider ridges have been cleared for pasture. Much of the moderate slopes, ridge tops and bottom lands of the middle and upper Fox Creek watershed has been cleared for pasture. There are significant areas of forested land as well, particularly in areas of steeper slopes. There are five springs at the headwaters of the East Prong and Fox Creek that keep the upper stream perennial. There are sinkholes on Tick Ridge on the west side of the drainage.

Topographic Maps: Brushy Knob, Vanzant, Rockbridge, and Gentryville.

School Districts: Mountain Grove, Skyline, and part of Norwood.